Bone-A-Fide Vanilla + Jasmine Conditioning Dog Shampoo is a high quality product developed by John and Sandra Munro. Borne out of a need for our Boarder Collie who was always itching and scratching.
Our brief to our formulators was to create a product as natural as possible using plant extracts that would help keep dogs' coats healthy and clean.
Make no bones about it, Bone-A-Fide Dog Shampoo is truly making a difference to dogs all over Australia and New Zealand.

We are also confident along with many groomers already using our products you will be amazed at the results, and we ship next day Australia and NZ wide.
Bone-A-Fide Dog Shampoo are proud members of the Pet Industry Association, Australia.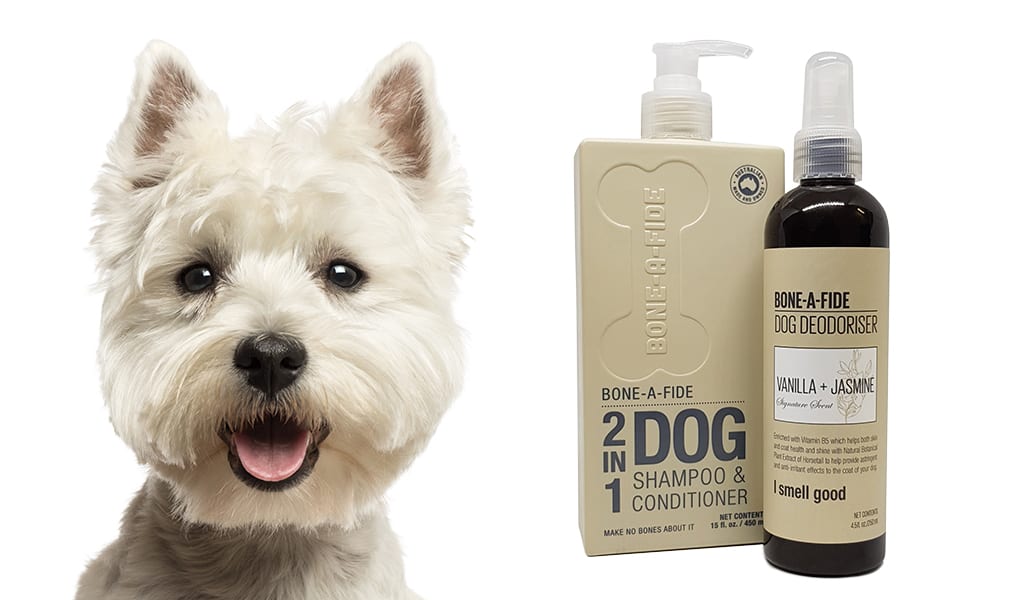 Vanilla & Jasmine
Bone-A-Fide Clean Dog Shampoo & Conditioner helps eliminate body odour and dirt from the skin and coat.
This shampoo is enriched with Horsetail which helps provide astringent and anti-irritant effects to the coat of your dog.
Our complementary signature scent is Vanilla + Jasmine Dog Deodoriser 250ml. This spray is enriched with Vitamin B5 which helps both skin and coat health and shine. It also contains Natural Botanical Extract of Horsetail.
Eliminates body odour and dirt